Taking part in a community clean up is easy!
You can choose to take part in a one time clean up event during Clean Up Australia Day on the first Sunday of March each year or be a part of a regular clean up group through the Love Your Place program. We provide you with the tools you need to get your clean up party started and free pick up of litter collected. Whether you are a business, family, school or just a group of keen community members, we would like you to be a part of our community that cares for our environment!
Clean Up Australia Day - Sunday, 7 March 2021
In 2020, over 450 individuals volunteered at 35 sites across Canada Bay, removing over 3500 kilograms of litter from our environment. We need your help to make this a bigger and better event!
Due to current restrictions, we are encouraging our community to get involved by registering your own clean up site and you will receive your starter kit in the post. Council will help remove your rubbish at the end of the clean up.
If you would like to come along to one of Council's sites, please register online to come along to one of the following locations:
Registrations are required to attend Council's site to help keep this a COVID safe event for our community. For more information call 9911 6555 to speak to Council's Sustainability Projects Officer.
Love Your Place Program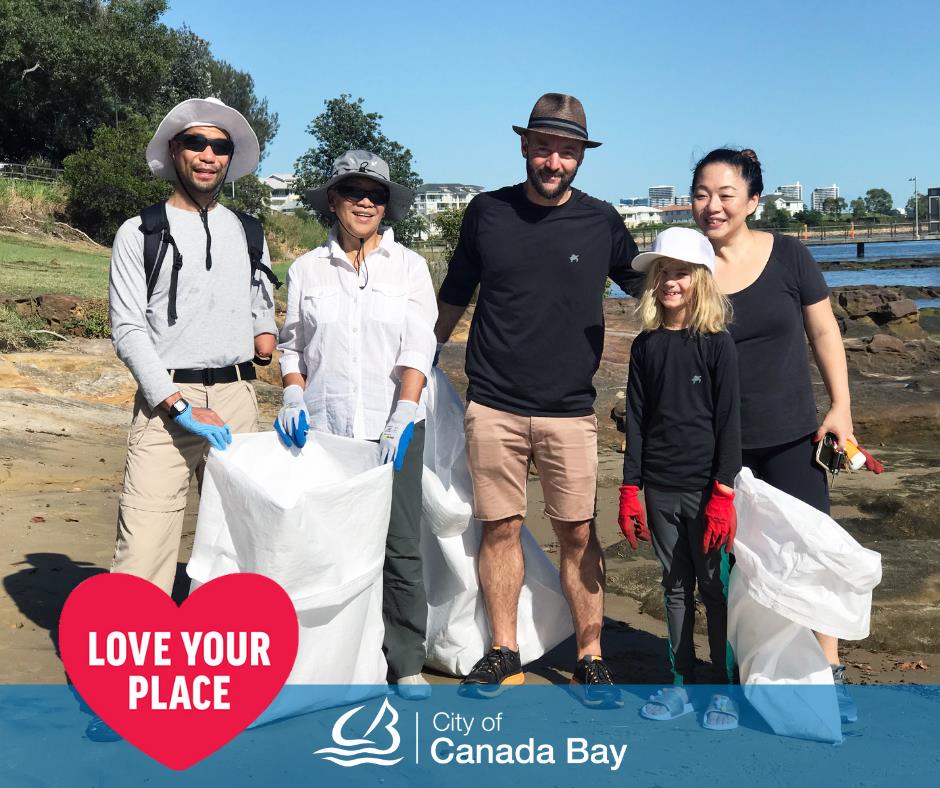 The Love Your Place program is a free community partnership with the City of Canada Bay and the local community. The program encourages community groups, residents, local businesses and schools to get involved in the preservation and enhancement of our many parks, open spaces, streets, foreshore and playgrounds. Bring your friends, family, neighbours and colleagues together to increase the pride and cleanliness in your neighbourhood. The City of Canada Bay will provide the materials and support needed to complete your clean-up activities.
As a Love Your Place partner, you will:
Act as ambassadors at your nominated site

Host a minimum of two community clean-up days a year

Report illegal dumping, graffiti, damaged facilities and anti-social behaviour at the nominated site

Regularly visit your nominated site to monitor its upkeep and report maintenance requirements to Council.
In return, to keep your nominated place clean and green, Council will provide you with:
Clean-up kit with first aid kit, trash pickers, gloves, rubbish bags and hi-vis vest

Educational material such as display posters, pamphlets and dog poo bags 

Support and promotion of mini events

Commitment to Work Health and Safety.
Get involved:
Regular clean up groups are working at the following sites:
Rodd Park, Rodd Point
Halliday Park, Five Dock
Hen & Chicken Bay, Wareemba
Quarantine Reserve, Abbotsford
Concord Hospital Foreshore, Concord West
Half Moon Bay, Drummoyne
Cabarita Park, Cabarita
Want to start your own group? The first step is to nominate a site your group would like to adopt. Then submit an application form to Council and the Sustainability Projects Officer will contact you to meet and discuss your application. Once approved, your clean-up kit will be sent to you!
For more information download the Volunteer Information Package or contact Council via email or call 9911 6555.
During COVID-19, all volunteers must follow physical distancing and safety protocols outlined in our COVID Safe Plan.