NBN works in our area
NBN Co are currently conducting works across the City of Canada Bay. We are working to ensure NBN Co remediate the sites after their works are completed.
To see where these works are taking place please click here. This list will be updated as Council is notified of any commencement of works.
If you have any concerns about these works please contact NBN Co on 1800 687 626 or via their website.
Road and footpath works happening in your area
Other works in the City of Canada Bay — notification letters
Below are letters provided to Council of other works being undertaken within the City of Canada Bay by utility companies and also other parties such as RMS, Transport for NSW and alike.
Footpath condition audit
The City of Canada Bay has an extensive network of pedestrian and cycle paths within our Local Government Area (LGA). These assets are an integral part of our community's everyday life as they connect our parks and reserves, train stations, community facilities, and residential and commercial premises. These infrastructure assets play an important role in the overall transport and recreational network. The increasing focus on pedestrian and cycle modes as a healthy and active alternative is enhancing their importance.
Council has engaged Pavement Management Services (PMS) to conduct a network-wide condition survey on our footpath assets within our LGA. The aim of this exercise is to collect the most up-to-date condition data which will assist in preparation of Council's long-term strategic plans such as Asset Management Plan (AMP), Pedestrian Accessibility and Mobility Plan (PAMP) and the Canada Bay Bike Plan. This will also enable Council to plan for the programmed maintenance works and to manage future renewals.
The survey is scheduled to commence mid-January 2021 and the works are expected to conclude by June 2021. The condition audit is part of Council's Asset Management Strategy and is expected to cost around $75,000. Camera mounted quad bikes such as the one shown below, will be used by our contractor to survey the footpath network.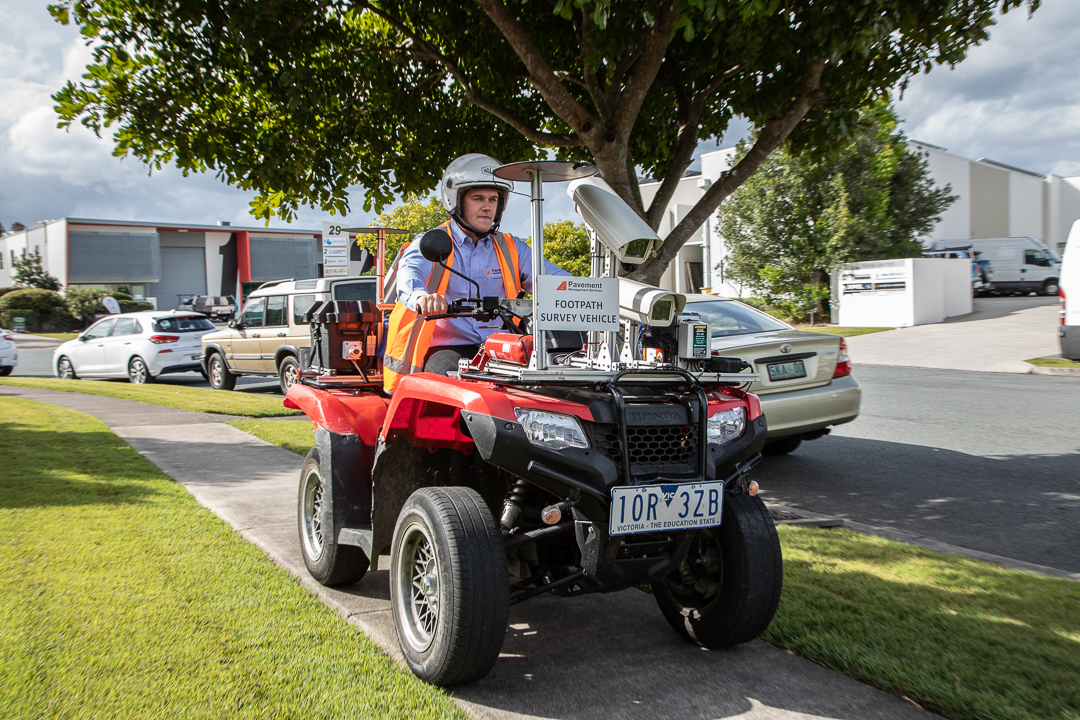 Footpath renewals program — 2020/21 — TBC
Council is currently undertaking footpath renewal works in the City of Canada Bay. These works are being undertaken by Council contractors. Please be advised that these works may affect access to some properties, however, the contractors will endeavour to minimise any inconvenience to our residents. All works are subject to change and weather permitting.
Schedule of works: TBC
For any enquiries regarding these works please contact Customer Service on 9911 6555.
Roads resurfacing program
As part of our commitment to improving local infrastructure, each year we complete asphalt resurfacing works that are part of Council's Road Resurfacing Program. The 2020/21 works scheduled to be undertaken are as follows:
Suburb
Street
Segment

Estimated

Budget

Estimated

Completion

Concord
Bayview Street
Frederick Street to Cabarita Road
$150,000
April/May
Abbotsford
Bickleigh Lane
Werona Avenue to Bickleigh Street
$ 50,000
April/May
Abbotsford
Werona Avenue
Great North Road to Campbell Street
$ 30,000
April/May
Concord
Broughton Street
Burton Street to Park Avenue
$ 40,000
Completed
Concord
Broughton Street
Park Avenue to Gipps Street
$ 50,000
Completed
Concord
Broughton Street
Parramatta Road to Burton Street
$ 60,000
April
Mortlake
Edwin Street
Hilly Street to Tennyson road
$ 80,000
April/May
Russell Lea
Speed Avenue
Whittal Street to Barnstaple Road
$180,000
April
Drummoyne
Duncan Street
South Street to Thomson Street
$130,000
Completed
Five Dock
Harris Road
Queens Road to Parramatta Road
$ 80,000
April
Five Dock
Harris Road
Garfiled Street to Queens Road
$450,000
March/April
Five Dock
Harris Road
Harris Road: (Shoulders) Garfield Street to Queens Road
$ 50,000
April
Five Dock
McKinnon Avenue
Lyons Road to Great North Road
$220,000
April/May
Mortlake
Tennyson Road
Northcote Street to Whittaker Street
$140,000
April/May
Mortlake
Tennyson Road
Whittaker Street to Palace Lane
$ 70,000
April/May
Mortlake
Tennyson Road
Edwin Street to Northcote Street
$200,000
April/May