NBN works in our area
NBN Co are currently conducting works across the City of Canada Bay. We are working to ensure NBN Co remediate the sites after their works are completed.
To see where these works are taking place please click here. This list will be updated as Council is notified of any commencement of works.
If you have any concerns about these works please contact NBN Co on 1800 687 626 or via their website.
Road and footpath works happening in your area
| | | | |
| --- | --- | --- | --- |
| Date of Works | Type of Works | Street/s | Suburb |
| late June to August 2021 | Proposed Shared Pathway | Byrne Avenue | Russell Lea |
| between May & August 2021 | Intersection Upgrade | Crane Street & Burwood Road | Concord |
*The completion of the below works have been further impacted due to the current COVID-19 restrictions relating to construction works.
Road Maintenance Works - Flavelle Street, Concord (21 June – 30 June 2021)
Construction of Raised Crossing for Pedestrian & Cyclists - Intersection of Shoreline Drive & Gauthorpe Street, Rhodes (commencing July 2021)
Proposed Footpath - Norman Street, Concord (early June to late June 2021)
Harris Road Slab Replacement Works - Harris Road, Five Dock (December 2020 – March 2021)
Other works in the City of Canada Bay — notification letters
Below are letters provided to Council of other works being undertaken within the City of Canada Bay by utility companies and also other parties such as RMS, Transport for NSW and alike.
Footpath condition audit
The City of Canada Bay has an extensive network of pedestrian and cycle paths within our Local Government Area (LGA). These assets are an integral part of our community's everyday life as they connect our parks and reserves, train stations, community facilities, and residential and commercial premises. These infrastructure assets play an important role in the overall transport and recreational network. The increasing focus on pedestrian and cycle modes as a healthy and active alternative is enhancing their importance.
Council has engaged Pavement Management Services (PMS) to conduct a network-wide condition survey on our footpath assets within our LGA. The aim of this exercise is to collect the most up-to-date condition data which will assist in preparation of Council's long-term strategic plans such as Asset Management Plan (AMP), Pedestrian Accessibility and Mobility Plan (PAMP) and the Canada Bay Bike Plan. This will also enable Council to plan for the programmed maintenance works and to manage future renewals.
The survey is scheduled to commence mid-January 2021 and the works are expected to conclude by June 2021. The condition audit is part of Council's Asset Management Strategy and is expected to cost around $75,000. Camera mounted quad bikes such as the one shown below, will be used by our contractor to survey the footpath network.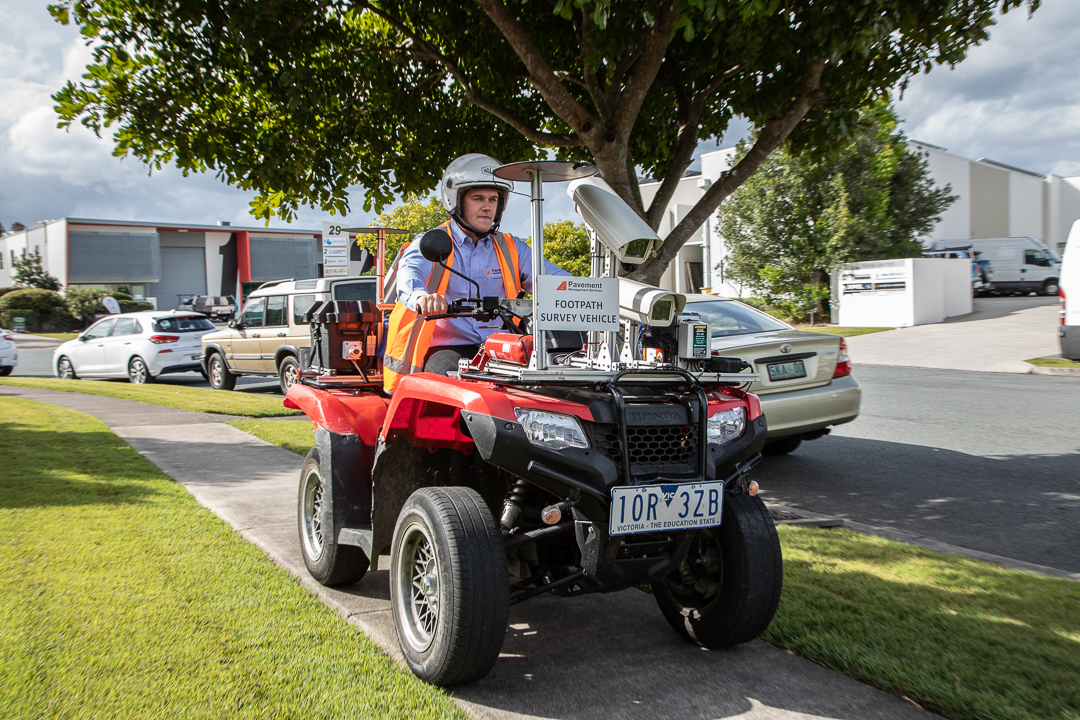 Footpath renewals program — 2020/21 — TBC
Council is currently undertaking footpath renewal works in the City of Canada Bay. These works are being undertaken by Council contractors. Please be advised that these works may affect access to some properties, however, the contractors will endeavour to minimise any inconvenience to our residents. All works are subject to change and weather permitting.
Schedule of works: TBC
For any enquiries regarding these works please contact Customer Service on 9911 6555.
Roads resurfacing program
As part of our commitment to improving local infrastructure, with our LGA, Council undertakes asphalt resurfacing and pavement renewal works annually. Council will be investing $6.0 million for the maintenance of roads in the 2021-2022 financial year. These works are anticipated to commence by August 2021 and will be completed by December 2021. Generally works will be carried out from Monday to Friday during the hours of 7am-5pm. However, there are some instances that may require work to be undertaken outside of these hours.
Our contractors will advise you in writing before commencing work, including information about any temporary parking restrictions that my be required. Our 2021/22 works schedule can be accessed here.