Community Facilities Resourcing Strategy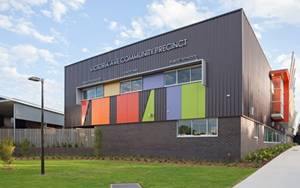 Victoria Avenue Community Precinct
At its meeting on 1 May 2012, Council adopted The City of Canada Bay Community Facilities Resourcing Strategy and Blueprint for Community Facilities. The Strategy and Blueprint sit under FuturesPlan20: A twenty year vision for the City of Canada Bay. Developed in partnership with community groups and Government agencies, the Strategy and Blueprint link to Council's Operating and Delivery Plans, the Development Contributions Plan and the Property Strategy.
The Strategy and Blueprint will guide the delivery of a sustainable and equitable network of community purpose facilities across the City of Canada Bay.
What is the Strategy?
The Community Facilities Resourcing Strategy maps existing community facilities, Council and non-Council owned and identifies community need through analysis of:
Demographic trends key issues and change impacting on the community
Benchmarks, other plans, best practice models
Current service levels against above indicators
Community consultation with a range community groups organisations and networks across the City 
Consultation with key council officers and community facility managers
Contains strategies to meet future need for community facilities 
Provides a clear framework for the sustainable management of existing facilities and for the provision of Council owned community facilities into the future.   
What is the Blueprint?
The Community Facilities Blueprint summarises the key directions for community facilities identified through the Strategy.
Quintessentially, there are three key strategic directions for future provision of community facilities. These are:
Rationalise the number of single purpose community facilities to a smaller number of multi-purpose community centres. This would include disposal of some facilities, redevelopment of others and change of use for some community centres to venues for hire.
Create three strategically located community hubs in Rhodes/Liberty Grove, Five Dock and Drummoyne Activity Hubs in sites that are well connected to public transport, commercial, retail and community activity.
Staff and provide neighbourhood functions within future community centres.
Why has Council developed the Strategy and Blueprint?
Council will use the Strategy to document and make public the type and locations of community facilities in the LGA
Inform decisions on the need for provision of community facilities in light of changing demographics, such as increased or ageing populations or migration between the City of Canada Bay and neighbouring areas or other countries ageing facilities, that are single purpose, do not meet access requirements and may not meet current needs, which may be adapted or replaced with flexible, multi-purpose facilities to respond to change in program and service needs
The need for sustainable and inter-generational community facilities to reduce costs, manage more efficiently and provide for future generations
Unmet need for certain types of facilities; for example meeting spaces, exhibition or performance spaces that may be incorporated into flexible multi-purpose facilities         
To inform other key plans and strategies of Council such as Asset Management Plans, the Property Strategy and Development Contributions Plan         
Assist in the delivery of outcomes required under Council's 20 year Community Plan 'FuturesPlan20'.
More information