The City of Canada Bay took home the Best Public Works Project 2019 under $2 million award for Five Dock Streetscape Upgrade Stage 1 at this week's IPWEA Australasia Awards for Excellence.
"We are competing against Councils from across Australia and it is an honour to win such an important award," City of Canada Bay Mayor Angelo Tsirekas said.
"This work is vital to Five Dock and we look forward to continuing these award winning upgrades for the entirety of the precinct once NBN Co complete their long awaited works."
"Five Dock is a vibrant town centre in our City, home to over 400 businesses. Stage 1 of this winning project saw Great North Road from Lyons Road to Henry Street receive huge facelift."
Upgrade highlights include new street trees and shrubs, street furniture and pavement, LED street lighting, relocating power network underground, drainage improvements and road re-sheeting.
Stage 2 of the project was planned to commence late 2018 however the work was delayed when NBN Co informed Council that they were planning on installation works in the same area. NBN Co have recently begun their works and Council will commence Stage 2 immediately proceeding completion.
"Our investment in Five Dock showcases our commitment to retaining the town centre's existing village feel while also providing a framework for economic and commercial growth," Mayor Tsirekas said.
The Institute of Public Works Engineering Australasia (IPWEA) holds the awards every two years. These awards celebrate the success of excellent infrastructure projects across the country, and support public works engineering professionals to reach their full potential for the good of their communities.
The City of Canada Bay was nominated for three awards: The Bay Run for Excellence in Road Safety Engineering, The Connection in Rhodes for Design and Construction of a Local Government Project, and Five Dock Streetscape Upgrade Stage 1 for the Best Public Works Project 2019 under $2 million.
"Nominations in three categories for three different projects is a testament to our great work throughout our City. From Rhodes through to Five Dock and Drummoyne, we continue to deliver high quality infrastructure for our community."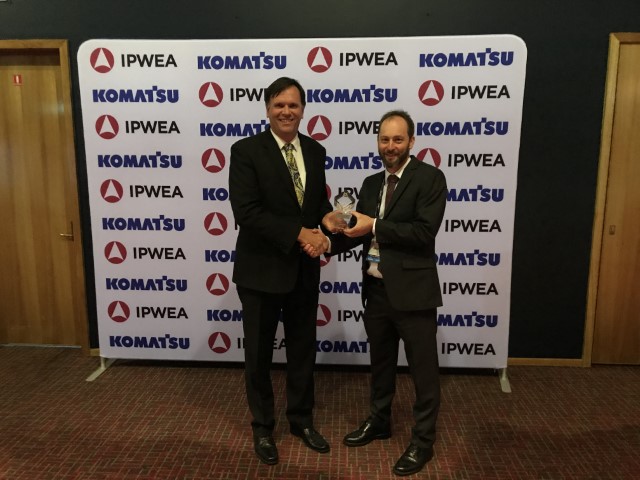 Photo caption: City of Canada Bay staff member John Earls and IPWEA President Mat Greskie