This year we invite you to join us to celebrate the 25th anniversary of Ferragosto on Sunday, 21 August 2022. The City of Canada Bay's largest event brings the people of the City of Canada Bay and wider Sydney to Five Dock and pays homage to the Italian heritage of the local community. The festival garners considerable support and interest from local businesses, entertainers, community organisations and residents.
To register your interest in becoming a stallholder at this year's event, please complete the online stallholder application and attach the information listed below no later than Friday, 17 June. Note: early bird applications close on Friday, 22 April.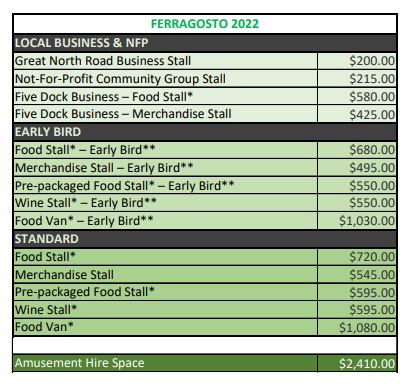 Please read the information in the stallholder terms and conditions and stallholder information pack carefully as you will need to confirm you have read and understood them.
If you are a food or beverage vendor you are also required to read through the temporary food stalls fact sheet and requirements for temporary food stalls.
At the end of the online application process, you will be asked to attach the following documents:
A copy of your current Public Liability Insurance Certificate of Currency with a minimum of $20 million cover.
A copy of your Food Safety Supervisors Certificate (food and beverage stalls only).
Signed copy of your food safety checklist (food and beverage stalls only). Please note this is compulsory for all applicants who plan to sell non pre-packaged food products.
A completed list of equipment requiring power (gas or electric). This includes any electrical equipment such as cash registers or EPOS you may use on your stall and need power for. If there are none, you will still need to indicate this on this form. Please note power and water are not supplied.
Photographs of your stall or food truck set-up — outside appearance, front and back, and internal layout showing all appliances,
Evidence of not-for-profit status (if applicable).
Please be aware that plastic bags, polystyrene and helium balloons are banned at Council's events.
The NSW Government, under the NSW Plastics Action Plan, will introduce legislation to phase out selected single-use plastic items from 1 June 2022. For more information on what the ban means for you, visit Single Use Plastics Ban or email Council at environment@canadabay.nsw.gov.au.
City of Canada Bay reserves the right to refuse any application. If your application is unsuccessful you will be notified via email. If you are successful you will be emailed a stallholder agreement and invoice requesting full payment.
Applications will only be accepted via our online application form. It is the stallholder's responsibility to ensure your application has been submitted.
If you have any questions please email events@canadabay.nsw.gov.au and a member from our events team will assist you.
APPLICATIONS ARE NOW CLOSED
Please contact events@canadabay.nsw.gov.au to be placed on a waitlist